The Airmen's Stories -

P/O C L Roman

Charles Roman was born in Lessines, Belgium on 28th August 1909 and joined the Belgian Air Force in 1928, receiving his wings in 1930.
(Above: Roman with a Fairey Fox)
In 1940 he held the rank of Warrant Officer and was serving as an instructor while waiting to be commissioned.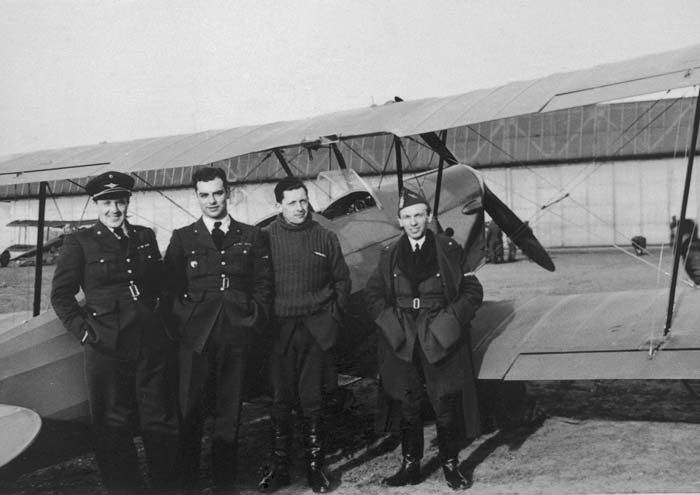 (Above, Deurne 1940 - L to R: Roman, Leopold Collignon (who would later join the RAF) unknown, unknown)
Following the German invasion the flying school was ordered to withdraw to France and Roman was one of the pilots ferrying the school's aircraft. He crashed on landing and was admitted, injured, to hospital in Caen.
In June 1940, as the German columns approached Normandy, he discharged himself, still injured, and embarked on one of the last ships leaving Brest for England. He arrived on 18th June 1940. He was commissioned into the RAF on 1st July 1940 and posted to 5 OTU.
On 5th August he was posted to 236 Squadron of Coastal Command, operating Blenheims in convoy protection during the Battle of Britain.
On 19th November 1940, 272 Squadron formed at Aldergrove by merging one flight from each of 235 and 236 Squadrons. Its Blenheims began operations on the following day and it flew shipping escort patrols until April 1941, when it converted to Beaufighters, being earmarked for transfer to the Middle East.
The first six aircraft left on 24th May and the first squadron aircraft to reach Egypt arrived on 28th May. It set out next day to provide fighter cover for the evacuation of Crete and was joined by others as they arrived in the next few days, the squadron being complete by 1st June. As the only effective long-range fighter squadron in the area 272 was active immediately on convoy escort and intruder missions, supplemented by escort duty for other anti-shipping squadrons.
Roman established a reputation as a courageous and competent pilot. Long-range ground attack sorties continued over Egypt and Libya until the squadron was transferred to Malta in November 1942, to mount similar attacks on Sicily and Tunisia. By then Roman has been credited with destroying a Me109 and a Ju52 (shared) plus a probable Me110 and Do24. He was awarded the DFC (gazetted 15th September 1942).
Roman returned to England to be a founder member of 349 Squadron, which was due to form on 10th November 1942 at Ikeja in Nigeria. It would consist of Belgian pilots who would ferry Tomahawk aircraft from Africa to the Middle East.
(Above: Roman in Libya)
This role did not suit Roman at all and he somehow managed to be returned to 272, who welcomed him back. In May 1943 he was promoted to Squadron Leader and made a Flight Commander. Still based in Malta the squadron specialised in attacks against enemy ports and shipping. He was taken off operations and served in HQ Mediterranean Forces from 21st June 1944 and was awarded the Distinguished Service Order (gazetted 22nd July 1944).
At the end of the war Roman was serving at the Central Fighter Establishment and stayed there till 1946 when he returned to Belgium. He held a position in the Ministry for National Defence until October 1949 when he was posted to command 1st Fighter squadron at Beauvechain, 20 miles SE of Brussels. He then became Commander of the 1st Wing on 15th February 1950.
Despite his senior position Roman took part in the day-to-day testing of men and machines in the all-weather fighter role. It was on one such sortie that Roman took off in a Meteor NF11 at around 9 pm on 25th November 1954 with navigator/radar operator Captain Jean de Norman d'Audenhove, who also served in the RAF during WW2. Shortly after takeoff the cockpit hood detached and the Meteor came down on a farm in the hamlet of La Houssière, killing an inhabitant of the farm and both crew members.
Beauvechain was renamed Base Aerienne Lieutenant Colonel Roman in his memory.
He is buried in the family vault at Lessines New Communal Cemetery, Hainaut, Belgium.
Photos and additional research courtesy of Andre Bar at www.bamfbamrs.be/RAF/index.htm