The Airmen's Stories -

Adjutant R Mouchotte

Rene Mouchotte was born on 21st August 1914 at Saint Mande, Paris, the son of Gaston Mouchotte (1878-1958) and Simone Mouchotte (nee Duvelleroy 1883-1962).

It was intended that he should join the family business but he was more interested in aviation. In 1934 he was liable for military service and he joined the Armee de l'Air as a pupil pilot and obtained his flying brevet.

On returning to civil life Mouchotte continued to fly. Mobilised at the outbreak of war, as a Sergeant-Pilot he tried to get into operational flying but was posted to a flying school as an instructor. Despite frequent requests for transfer he remained instructing. On a refresher course at Avord he met Charles Guerin and they were posted, as instructors, to North Africa.
In June 1940 they were on a Morane 406 course at the Fighter School at Oran. When the Armistice was signed on 22nd June, Mouchotte and Guerin decided to go to England. With four other French pilots they took off at dawn on the 30th for Gibraltar in a Caudron Goeland.
They sailed for England on 3rd July in the French armed trawler President Houduce and on the 25th were at RAF St Athan. Eleven French pilots were posted to No. 1 School of Army Co-operation, Old Sarum on 29th July.
They moved to Odiham on 10th August, where they put in about 15 hours on Tiger Moths and Hectors. On 19th August Mouchotte went to 6 OTU Sutton Bridge. After converting to Hurricanes, he joined 245 Squadron at Aldergrove on 11th September 1940, moved to 615 Squadron at Prestwick on the 18th and was promoted to Adjudant.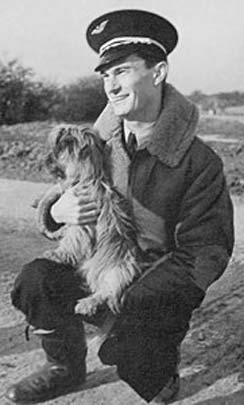 Commissioned in February 1941, Mouchotte temporarily commanded 'B' Flight from 4th March when F/lt. CN Foxley-Norris went into hospital. Mouchotte was awarded the Croix de Guerre (gazetted 2nd July 1941) and on 29th July he was made a Flight Commander.
Mouchotte destroyed a Ju88 on 26th August and on 10th November he was posted to Turnhouse as Deputy 'A' Flight Commander with 340 Squadron, then forming there.
He was promoted to Captain in March 1942 and awarded the DFC (gazetted 1st September 1942).
On 18th January 1943 Mouchotte returned to Turnhouse to form and command 341 Squadron. In May the squadron was at Biggin Hill and on the 15th excitement was running high as to who would claim the sector's 1000th victory. Mouchotte destroyed a Fw190, apparently coinciding exactly with the destruction of another by S/Ldr. EFJ Charles.
It being impossible to decide whose had been the first to fall, the two pilots shared the honour and the cash sweepstake, getting £90 each.
Mouchotte destroyed a Me109 on the 17th. On 27th August 1943 Mouchotte failed to return from a bomber escort to the proposed V2 launch site at Eperlecques, near St. Omer and was reported 'Missing'.
After the war evidence showed that his body was washed up on the beach at Middelkerke, Belgium on 3rd September and that he was buried there. Mouchotte was awarded the Croix de la Liberation (gazetted 8th May 1943) and the Croix de la Legion d'Honneur (gazetted 20th October 1943).
His body was exhumed in October 1949 and returned to France. In a ceremony at Pere-Lachaise Cemetery, Paris on 3rd November 1949, Mouchotte was buried in the family vault.
Above: Mouchotte is commemorated by a street in Paris and (below) by two plaques at the Eperlecques site, which is open to vistors: